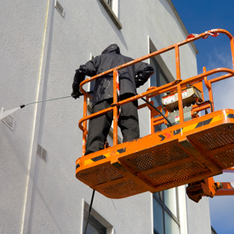 Dirt Busters offer a range of High Level Cleaning services such as:
Areas we Cover:
High Level Cleaning Newcastle | High Level Cleaning Middlesbrough | High Level Cleaning Durham | High Level Cleaning Sunderland | High Level Cleaning South Shields
High Level Cleaning Newcastle
Keeping your work environment clean is of extreme importance. Dirt, dust, and grime can build up layer by layer over many surfaces. If these places are not cleaned periodically, the build-up would result in a toughened layer that is tough to remove. Naturally, it would also pose as a health hazard and put you or your business at risk. While it is easy to reach and clean the easily accessible places, it is extremely difficult to keep the internal and external high level regions clean and hygienic in factories. It becomes all the more difficult when it comes to industries dealing with retail, large entertainment venues, food manufacturing, warehouses, schools, fabrication, and even facilities offering leisure activities. This is why workplaces should take on the challenge of high level cleaning as often as possible.
While it may be highly necessary, high cleaning is no piece of cake. It involves various cranes and elevated platforms to access the various locations that need to be cleaned. Apart from just the specialised equipment, the cleaners also require appropriate and suitable cleaning chemicals. These basic necessities are a must for a safe and controlled execution of a high level cleaning without putting any life or property at risk. Now that you understand the risks and the gravity of high level cleaning, you may be wondering who can carry out high level cleaning in Newcastle? We, at Dirt Busters, are a team of professional cleaners who can take on the most challenging cleaning tasks. We make use of the following equipment to reach to the most inaccessible spots:
Scaffolding – Offers a stable and mobile working platform for the cleaner to freely stand on
.
Cranes – You may have seen them at highways and public roads.
Elevated or Regular Platforms – Platforms are ideal for working in constrained spaces.
Spider – Similar to a Cherry Picker, it is an elevated platform supported by a pneumatic system (instead of hydraulic, as in the case of Cherry Picker)
Scissor Lifts – makes use of a linked, folding support that is in the criss-cross X-shaped pattern similar to that of a scissor
Sticks, Brushes, and Articulated Booms
With these cleaning gears, you can be assured that no spot is overlooked. These cleaning paraphernalia are necessary for a thorough high level cleaning. We can reach the roofs, atriums, guttering, skylights, glazing, cladding, and even the air conditioning systems. Our cleaners are specially trained and well-equipped to a point where even a space crunch would not pose as a problem to them. Each staff member undergoes an accredited training service that makes them capable of handling the heavy duty machines like the lifts and booms. The high quality cleaning kits coupled with our skilled staff will leave your place looking spic 'n' span! The deadly combination of our extensive set of cleaning equipment and our expertise in the field of cleaning makes Dirt Busters the best High Level Cleaning Company in all of Newcastle!
Our team of leading experts will survey the location for risk assessment purposes prior to the commencement of high level cleaning operations. The process begins with the visit of the specialists who will evaluate the hygiene conditions and requirements of your business place. Once they have a greater understanding of the space, we will draft a cleaning routine that shall be discussed with you. Based upon your business operations and convenience, the revisions, if any, will be made to the routine. Once we have your approval, the cleaning shall begin. On conclusion of the cleaning, you will be wowed by our professional, safe, and legally compliant final outcome.