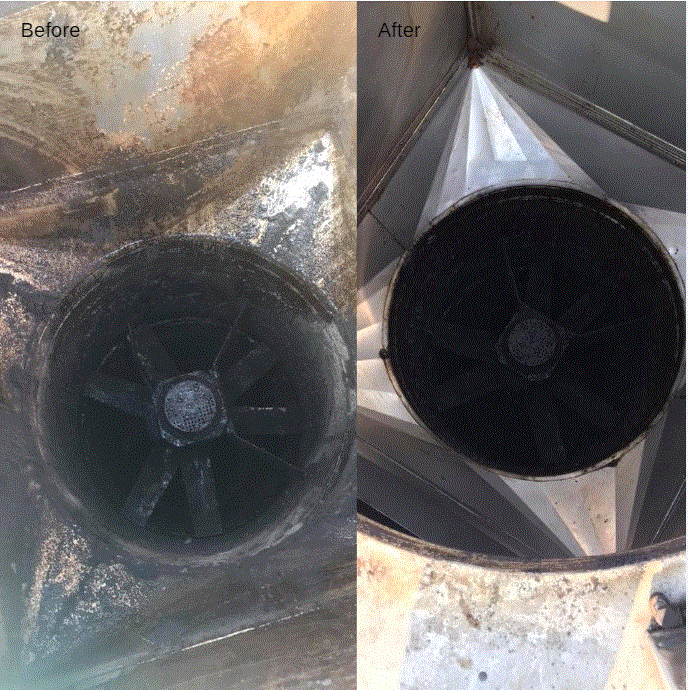 Kitchen Duct / Extraction Cleaning
The build of of grease and fat deposits in commercial kitchens is a serious FIRE RISK and if kitchen duct cleaning is not carried out regularly your insurance may be invalid.
In fact, it is now a requirement of insurance companies that all grease extraction plant and ducting is cleaned frequently by an accredited specialist company.
Using specialist kitchen duct cleaning services is also advisable to ensure commercial kitchens are kept clean and free from grease or fat deposits; which promotes healthy public food preparation and ensures food prep areas remain hygienic. 
 The industry standard for grease extraction systems encompasses canopies, fans, filters and ducting is set by The Heating and Ventilating Contractors' Association (HVCA). Its best practice guide, TR/19, Part 7 sets out
 The level of contamination that is allowed before a complete clean is required and the required post-clean measurement.
A recommendation of the frequency of cleans necessary, based on usage, so that a kitchen that is subject to:
• light use (between two and six hours each day) should deep clean ducts and extraction systems every twelve months.
• medium-use kitchens (used between six and twelve hours each day) duct cleaning should take place every six months and kitchens that are subjected to heavy use (between twelve and sixteen hours each day) should clean their vents every three months.
The image above show's a clean which was completed in a baking factory, this clean is completed every 3 months to ensure build up is minimal. A Hot foam is sprayed on the area after being scraped to help loosen the dirt and grease making it easier to remove. To complete this job we needed a cherry picker to reach all the areas ensuring the extraction and kitchen duct is cleaned to a TR/19 standard.
Any one attempting this job should be fully trained as there are many risks involved. Our team Specialise in working at heights, COSHH (Control of Substances Hazardous to Health) trained , LOLER (Lifting operations and Lifting Equipment Regulations), First Aid trained, Asbestos trained and CSCS card holders. 
Contact us today if you would like to find out more about DIRTBUSTERS NE LTD specialist commercial kitchen duct cleaning services. We use the most technologically advanced equipment for efficiency and effective cleaning to maintain the highest standards, so you, your staff and your business are protected.